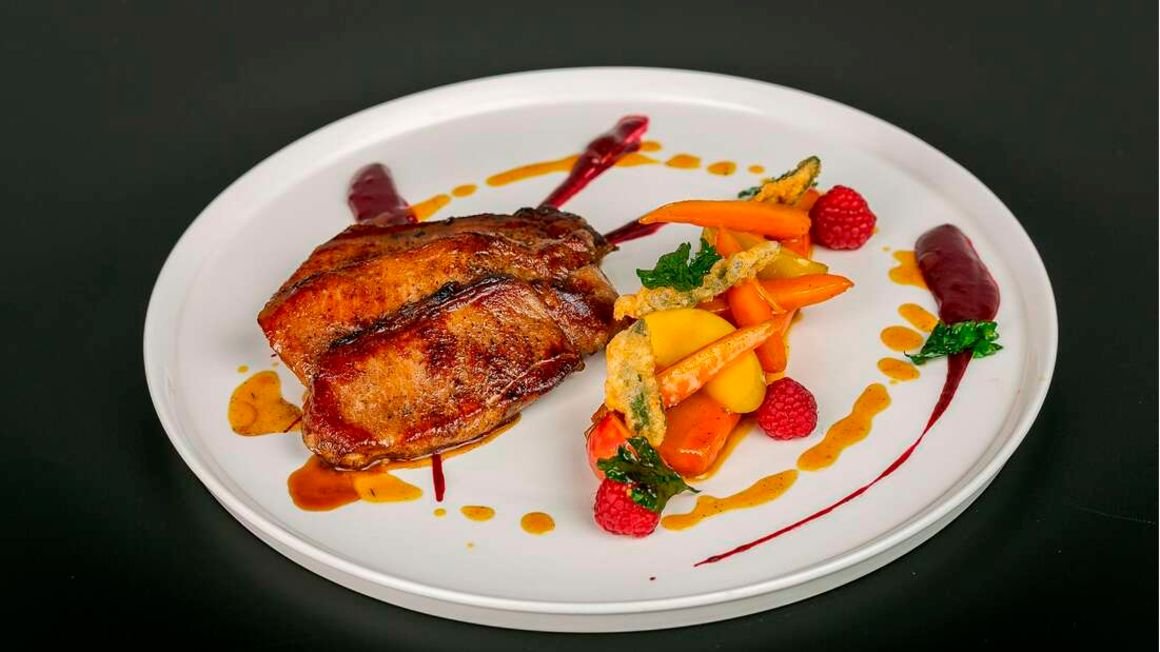 As the food and restaurant business continues to grow in Kenya, a local chef who has done stints in the finest establishments in Switzerland, France, and Qatar is setting a table here home.
"With the experience, I can bring a different kind of cuisine that is not in the market to expand the culinary options," says Kim Kiarie, a chef who has sharpened his skills in two Michelin's star restaurants for almost four years outside the country.
Kiarie is co-owner of Five Senses restaurant in Kilimani. He started the venture in July 2018 with the support of his mom and fiancée after working in Qatar.
"I am simply using what I have learnt to achieve a kind of French and Mediterranean style of cooking using our local ingredients, keeping the taste and product in its most original but flavourful form while making it an all-out dining experience."
One of the special dishes in the restaurant based at Galana Plaza includes pork loin chops served with glazed carrot and raspberry using star anise, cinnamon and orange peels mainly for the pork.
The pork chops are vacuum-packed to make sure they are fully cooked and the flavour enhanced with the spices in the bag.
"The aspiration is to bring out the orange and the citrus flavour. This has been used mostly in deserts than in savoury dishes.''
The carrot steak is roasted separately, then some orange juice is added with some butter to thicken it. Apples follow but are cooked slowly.
"When the apples and carrots are nearly cooked, we take out the pork from the sous vide bag and add it onto the pan with the fruit and vegetable. The pork flavours all the elements," says Kiarie.
It is served with a combination of raspberry that cuts out the sweetness from the orange juice.
"It simply brings out the flavours of the pork dish itself and the accompanying vegetables. It is worth trying if you love pork,'' he adds.
But as the 30-year-old cherishes moving back home, it has been difficult trying to make customers appreciate the new cooking style despite the growing appetite and development of food taste and preferences in the city.
He is one of the lucky few who have managed to study and work in the three countries- Switzerland, France and Qatar renown for their cuisines.
"I started in Switzerland after graduation from Top Chefs Culinary Institute with chefs' diploma in Nairobi in 2012, to join Cèsar Ritz Colleges for Bachelors of Art in Culinary," he says, adding that this helped him earn a place at Dorchester Collection Hotels in Paris, working at the Le Meurice for six months.
"Here, I was introduced to Chef Alain Ducasse and his philosophy on food. I worked with his appointed chefs and this is where I fell in love with French cooking and discovered their cuisine," he says.
"In Paris my passion and love for food really blossomed. The intricate details that go into preparing a dish, use of locally sourced ingredients and the skill needed to achieve this."
The interaction with the French-born Monégasque chef pushed him to enrol in one of his schools, then later work with at Plaza Athenee, which is featured among top best restaurants in the world before being securing a job in Qatar under the Alain Ducasse restaurants, IDAM.
"At Qatar, I wanted to express who I was in the kitchen but could not, I knew I had what it took. At the same time, the kind of hours I was putting in did not make sense. If I was doing this for someone else why not do it for me?" Mr Kiarie adds, pointing that this realisation pushed him to start the business here at home.
Other special dishes include chicken roulade and seasonal vegetables, a traditional French dish, however, stuffed with spinach, herbs, cream and Mascarpone cheese.
"The dishes stand out regarding what the guests say about the food and independent sales. But the rack of lamb, potato and leeks is one of my favourite dishes as it embodies one of my favourite vegetables, potatoes," he says.
Recipe: pork loin chops, glazed carrot, and raspberry
250gr- portion chops (3 portions)
5gr – cinnamon stick
2gr- cloves
3 slices- orange peels
2gr- salt
2gr – pepper
5gr – thyme (herbs)
5gr-butter
25gr – orange Carrot (medium)
15gr -baby carrots
10gr -green apple
5gr- raspberry fruit
30ml- orange juice
5ml – olive oil
5gr- unsalted butter
For home purpose:
Put the 8 first ingredients into a zipper/ lock bag. Remove all the air and lock the bag.
Bring a pot of water to boil, using a thermometer simmer at 65 degrees. Put in the zip lock bag and simmer for about 30 minutes.
Once done, remove, put in an ice bath, and cool.
In a heavy-based skillet, add olive oil. Trim the carrot to make a base where it will sit flat on the pan. Once the pan is hot add the carrot, roast both sides for 3 minutes on each side. Add the baby carrots and butter, put a lid on and reduce temperatures for 3-4 min. Add the apple and orange juice, salt and pepper.
Finish tasting with salt and pepper.
Reduce the orange juice slowly to form a glaze, let it coat the vegetables.
Add the pork into the pan, make sure it heats up and serves.
Story by Business Daily