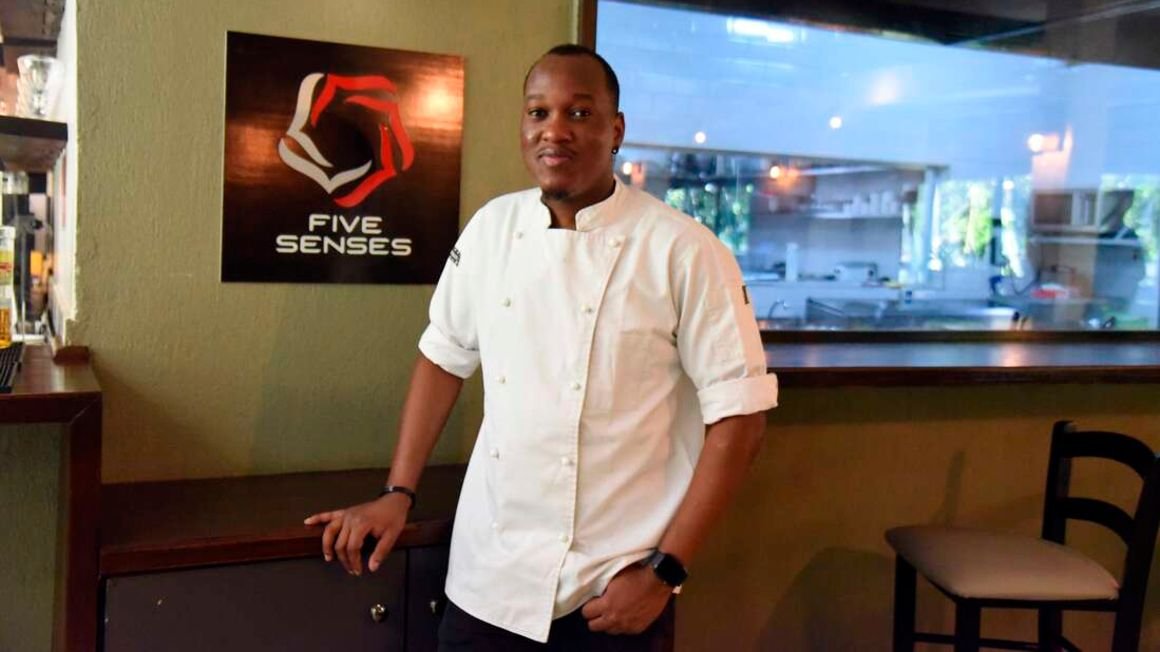 French food is considered one of the finest and most complicated cuisines to master. But Kimani Kiarie bravely took on the 'king of gastronomy' when he opened the Five Senses Restaurant, a French fine dining establishment in Nairobi.
Five Senses is a family-run restaurant that Kiarie operates with his mother, the person to whom he owes his love of cooking.
"My mother used to bake a lot when I was a child and I would help her. The process intrigued me and by Form 2 I knew I wanted to become a chef," says the 32-year-old head chef.
Kiarie studied at Top Chefs Culinary Institute of Nairobi before he enrolled for a Bachelor's degree in culinary arts at the Caesar Ritz Colleges of Switzerland in 2011.
But he found the course too theoretical and his quest for more practical learning took him to France. There he landed a six-month internship at the fine-dining Ducasse restaurant in the Le Meurice Hotel, Paris.
This two-star Michelin restaurant was established by the famous French chef, Alain Ducasse, and specialises in fish and vegetarian meals. Ducasse has 21 Michelin stars to his name, the ultimate culinary award in the world.
By now Kiarie was deeply in love with French cooking so he took a year-long higher diploma course at the Ecole Ducasse culinary school in France.
Kiarie says there is something very sophisticated about how the French cook.
"I'm inspired by their ability to bring out simple, seasonal dishes through technique, precision, emphasis on quality, and an understanding of the product to create a rich blend of natural flavours."
After France, he moved to Qatar in 2016 where he worked at another Ducasse restaurant. But within a year he felt the need for more creativity in his career. "I would rather work for myself than I feel under-appreciated, not valued and that nobody wants to listen to my ideas."
He resigned from his job, returned to Kenya and started his dream project of owning a restaurant in 2018. The name was inspired by multiple effects of food including taste, aromas, visual stimulation through presentations, interaction through touch, and the music and sounds from the dining area.
The most popular meals at Five Senses are the rack of lamb, tomahawk steak, duck, and the tuna tartare appetiser dish.
Though most people prefer meat dishes, Kiarie has crafted vegetarian meals such as mushroom risotto and a beetroot variation starter. His favourite Quenelles Nantua, white fish combined with eggs, cream and a choux pastry.
"It is simple yet complex, rich and packed with flavour."
When he opened Five Senses, some diners expected to find familiar foods like nyama choma or ugali, while others suggested the restaurant was merely showing off.
"I wanted to show people what else is out there and to elaborate the French cuisine," he says.
"Plus the number of fine dining restaurants in Nairobi are few."
He adds that Five Sense is for people willing to try something different, "and those with an adventurous palate."
Very fresh food
A key difference he sees between French and Kenyan attitudes towards food is that Europeans are more driven by seasonal ingredients and regional dishes.
"In France, they like fresh food and are very conscious of what they are eating, where food comes from, which farmer or fisherman," said Kiarie.
But, he adds, Kenyans are also becoming more aware of food origins and asking questions at the restaurant.
Though he specialises in French food, all his ingredients are locally grown apart from the wagyu beef, a pricey high-end meat cut that originates from Japan. An additional challenge of running a gourmet restaurant is getting suppliers to maintain product quality because ultimately it impacts the customer experience.
He only works with suppliers that can trace the ingredients back to a farm, ranch, or fishery.
"Because I know who we are working with I can explain to a customer why our steak is priced this way, that it is value for money." He says that skilled labour to handle the rigours of French cooking is hard to find.
"A person who sees the business as their own is different from one who works just for a salary," says Kiarie.
Consequently, he invests a lot of time in personally training his kitchen staff.
"Being a chef is something I love. I don't see myself doing anything else in life because this is what makes me wake up every morning," he says.
Story by Business Daily – https://www.businessdailyafrica.com/bd/lifestyle/food-drinks/chef-kim-is-bringing-back-the-delights-of-french-fine-dining-3751646